Debit Mastercard contactless payment card
This card is intended primarily for regular clients, but also for other individuals, who can become users of the Debit Mastercard of our issue, after the opening of a transaction account.
The Debit Mastercard Card is the right choice for those who want to have their cash in a modern way. The money at the account are available at any time, regardless of whether you are in the country or abroad, without the risk of having cash, with the possibility of simply withdrawing it.
There are many advantages of our Debit Mastercard card:
Free card issuance
Free card maintenance
Free cash withdrawals at our ATMs
Use the allowed overdraft per transaction account
Free SMS service for card transactions
Free payment of goods and services at home and abroad
Using a card for online shopping
Benefits of contactless payment
Mastercard contactless payment is a quick and easy way to pay wherever you are. Only thing you need to do is just to put your contactless card to the POS terminal, and your transaction is done.
There are numerous advantages of contactless payment, such as:
It enables you to quickly and efficiently pay for places where these requirements are most important, such as for example at check points, gas stations, fast food restaurants, stadiums, and many other places.
You have exactly as little money as you need, so you do not have to worry about having cash with yourself.
You have a better overview of all your purchases, than when you pay with cash.
You have everything under control - you never have to drop your card from your hand.
No random payments - Your card must be near the reader to properly work.
No duplicate billing - even if you place a card more than once, you will be charged only once.

Free 3D Secure service, additional payment security for online transactions
Free balance checks on our ATM
Advantages of 3D Secure service
3D Secure service is a free service provided by our Bank in order to increase your security when making online payments with your payment card.
How online payment works using 3D Secure service?
When you make payments online at web sites that are not yet participating in 3D Secure program, you can use your payment card for online transaction as before.
This service is required to be supported by the merchant to whom you wish to make a payment, the website will be marked with the Mastercard Secure Code as shown below:


When making payment, a dialog box will open on the screen where a payment card check will be performed, similar to the one below: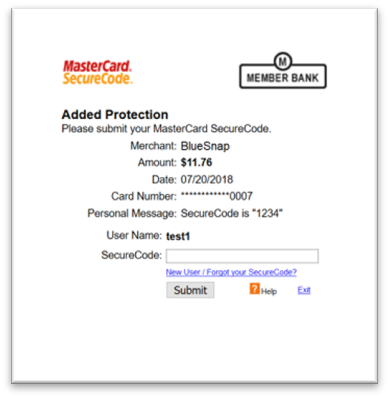 After successful verification, you will receive a one-time password via SMS, which you enter into this dialog box (the SMS will be sent to the phone number you registered with our bank). After entering, you have authorized the transaction and payment is complete.
Enjoy safe shopping with our payment card!
For urgent blockage of your payment card please call contact center on (382) 020 442 222.